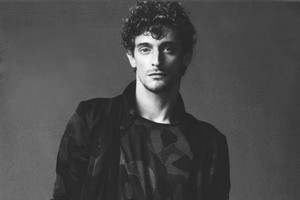 Cameron McMillan admits he might have set himself up with the title of his new work for the Royal New Zealand Ballet's triple bill celebration of Stravinsky.
But Satisfied With Great Success does not refer to McMillan's own achievements - though the booster-rocket trajectory of his choreographic and dance career certainly merits a healthy dose of satisfaction.
The title is a direct quotation, made by Stravinsky in a dialogue with Broadway impresario Billy Rose on the occasion of the original performance of the score to which McMillan has set his new piece. Scenes de Ballet premiered in 1961. Rose telegraphed from America: "Your music great success. Could be sensational if you would authorise Robert Russell Bennett to retouch orchestration."
Stravinsky's reply was immediate and succinct.
The statement has intrigued McMillan for "its strength of conviction in relation to his work".
As a young choreographer making more than ripples on the international dance scene and who presented his first full-length choreography in Hungary last November, McMillan has taken the quotation to heart and as a measure of his own progress.
"The way I see it," he says, "is if I can step out and take risks then I am doing something right."
The Scenes de Ballet score, originally written for a short ballet suite, is very structured, he says, with the music defining what will happen and when - a corps de ballet piece here, then a male solo, then a pas de deux.
McMillan sees working to such detailed parameters as a great opportunity to revisit the classical ballet of Diaghilev and his Ballets Russes - the line, the technique and the structure - but from his own viewpoint, "from where I stand in the 21st century".
While most of Satisfied With Great Success is abstract and "pure dance", McMillan is in constant play, in all his work, with "relationships" - with meetings and partings, possibilities and missed moments, with the relationship between dancer and music, the people he or she is dancing with, and with time, place and the audience.
He works collaboratively, and his process has introduced at least the younger RNZB dancers to a way of working more common in contemporary dance than in classical ballet.
"It is quite a neo-classical score," he says, of SWGS. "I have tried to oppose that, so the music is saying one thing but the movement vocabulary says another. Put together there is not as great a contrast as you might think. It is more a symbiosis."
The work references the extraordinary era of Stravinsky and Diaghilev in subtle ways. Lots of angles and concepts of form and function echo art deco themes.
McMillan's use of costumes, designed by Karen Walker, also nod to their tradition of bringing together avant-garde choreographers, musicians, artists and designers.
"I love to work alongside other people who have their own creative processes," McMillan says.
In his highly successful Verge, made for Rambert Dance Company in 2006, the costumes were designed by leading fashionista Roland Mouret.
McMillan, originally from New Plymouth where he took his first dance classes at the age of 8, graduated from the Australian Ballet School and joined the RNZB in 1998.
He quickly rose through the ranks to the role of principal dancer, becoming the company's very handsome prince in its classical repertoire, shining equally in its contemporary repertoire.
His first choreographic explorations also met with success and his first work, Unsuspecting View, was shown in 2001, in the RNZB's Tutus on Tour. In 1997, the RNZB also commissioned Equilibrium which was performed to significant acclaim in New Zealand, Australia and China.
By then McMillan had left for Europe, initially as a soloist with the English National Ballet.
The realisation that his real interests lay in the creative process involved in new work led him to Rambert Dance Company where he "danced alongside amazing dancers and learned so much" for five years.
He had more choreographic success with Verge.
Four years ago, McMillan decided that if he wanted to be a choreographer he "had to put myself in the thick of it". So he struck out on a freelance career based in London.
He counts returning to the RNZB to dance Romeo to Amy Hollingsworth's Juliet in 2008 a recent highlight. But the production of a full-length contemporary ballet, titled In The Garden of Good and Evil, commissioned by the Pecsi Balett in Pecs, Hungary, to celebrate its 50th anniversary and its role as ambassador to the European Capital of Culture, is his latest success. Based on the seven deadly sins, the work received a rare standing ovation at its premiere.
While McMillan presents Stravinsky in contemporary style, Russell Kerr's production of Petrouchka, after Michel Folkine, comes from direct experience with masters from the Diaghilev era. Now 81, the indomitable Kerr learned the work in the 1950s, while a dancer in the London Festival Ballet.
In 1964, he recreated a Petrouchka that remained faithful to the 1911 original for the RNZB, with significant help from former colleagues at the Festival Ballet June Kerr, Anne Rowse and Ken Sudell.
The third item on the programme is Javier De Frutos' Milagros, set to a pianola version of Stravinsky's incendiary score, The Rite of Spring, and restaged by Turid Revfeim.
Performance
What: Stravinsky Selection with the Royal New Zealand Ballet
Where and when: Aotea Centre, May 25-28; Napier Municipal Theatre, May 31-June 1