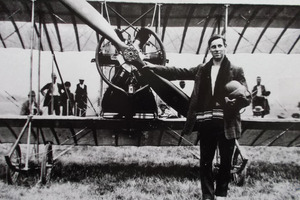 A daring young man in his flying machine is our New Zealander of the Year for 1914.
J. H. Scotland made what was said to be the first long-distance flight in New Zealand - just 40 miles (68km) from Invercargill to Gore.
"A successful voyage" was the headline on the Herald story which said he had first flown around Invercargill "at a fair height".
"He then left on an aerial voyage to Gore, about 40 miles distance. He made the journey without mishap, and arrived at Gore at 7.50pm. The flight was made in darkness."
Scotland followed up with a 158km flight from Timaru to Christchurch.
He was a pioneer of a new form of transport that was about to take over the world.
From the Herald archives:
'Flight in biplane: Invercargill to Gore, New Zealand Herald, 21 February 1914
Further reading:
Biography of J.H. Scotland, Te Ara Encyclopedia of New Zealand