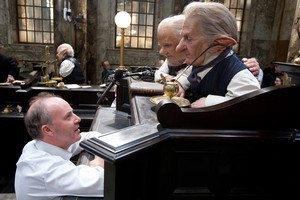 For David Yates, the last Harry Potter film means he's four from eight - he's now directed half the series, having joined the franchise on the fifth film, The Order of the Phoenix and helmed every film since.
Phoenix was his first cinematic feature after a career as a director of British television dramas. Six years later, he has box office figures that make him one of the most successful film directors of the era.
"It was an incredible opportunity to be offered Harry Potter," he acknowledges.
"But, frankly, I think I tried a little too hard when I did The Order of the Phoenix because it was my first big film and I got a little carried away. But that's what happens when you have huge responsibility and someone's standing over you, watching - you tend to go a little overboard.
"Saying that, I think it's got a real tautness to it whereas, with the last few films, I've become progressively more relaxed and feel like they've become mine more."
You can sense that transition with The Half-Blood Prince and the first parts of The Deathly Hallows, which bristle with Yates' deadpan humour, gritty texture and dark overtones.
His ongoing involvement has also ensured the last four Potter films enjoy a consistency lacking in the previous quartet. Perhaps that's why they've been more critically acclaimed and commercially successful than all but the inaugural Harry Potter film, The Philosopher's Stone.
In fact, with sequels traditionally faring worse, rather than better than their predecessors, it begs the question: should Yates have directed all of the films, from the outset?
"No, that would have killed me, so that wouldn't have been a good idea," he retorts. "But I think any director, trying to do all eight, would have found it too much, to be honest.
"Also, it needed different people to be involved because each person has brought something new to the table," Yates surmises.
"With Chris Columbus, who did the first two films, he found us Dan, Rupert and Emma and also got people in through the door, in a way that was popular, charming and delightful.
"Then Alfonso Cuaron cleared the room for someone like me to come in, because he took risks and did a wonderful job of opening the world up, before Mike Newell had a big party with Potter," he smiles.
"I think the reason why the films have such longevity and haven't suffered, revenue-wise, is because we've all had our turn at them, which has kept it fresh and dynamic."
Unsurprisingly, the new film is Yates' favourite - not just because it comes with a very big finish, but because it ends.
"It was important to end the series with an epic finale because that's what we've been building towards. It was also very cathartic, getting to blow things up. But the most cathartic thing, to be honest, is that this film has an ending," he insists.
"I made three movies with a comma at the end, rather than a full-stop, and that was very frustrating. So, this is my favourite - just by dint of the fact that it finishes the story, which is very satisfying.
"You know, it'd be nice if Harry Potter becomes part of film iconography and is looked back on in 20 or 30 years time and cherished in the way films like Mary Poppins, Jaws or The Wizard of Oz are."
*Need more Harry? Check out our special section celebrating 10 years of Harry Potter films, including stories, trailers and reviews here.
-TimeOut