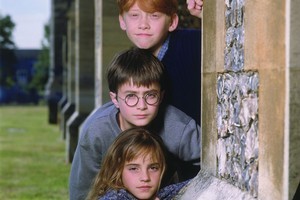 Countering widespread speculation, Harry Potter actress Emma Watson has decided to reprise her role as girl wizard Hermione Granger in the final films of the hit series, Warner Bros. said today.
Along with Watson, Rupert Grint will return as Harry's friend, Ron Weasley, and as previously announced, Daniel Radcliffe signed up to return as boy wizard Harry in the sixth and seventh instalments of the seven-part series.
"I could never let Hermione go - she is my hero!," Watson said in a statement from the Warner Bros. film studio. "I love her too much and love what playing her has meant to me."
Recent news reports speculated the 16-year-old Watson may not return to the role she originated. Her absence would have been a blow to the millions of fans who love the adventure movies based on the best-selling books by author J.K. Rowling.
The trio round out the main characters in the movie series that began in 2001 with Harry Potter and the Sorcerer's Stone, which proved to be a box-office sensation, raking in US$976 million in global ticket sales.
Three other Potter movies have since been released, adding nearly US$2.6 billion to the worldwide box office. In all, the four Harry Potter movies have grossed over US$3.5 billion.
The fifth film in the series, Harry Potter and the Order of the Phoenix, is scheduled for release in the UK on July 13.
As the series has continued, speculation has mounted that the original three actors might be growing too old to play the teenage wizards. Radcliffe, 17, and Grint, 18, have already moved on to more adult stories on stage and screen.
Radcliffe is currently winning rave reviews in a London theatre production of Equus in which he appears nude, and last year, Grint portrayed a young man who loses his virginity in coming-of-age movie Driving Lessons.
- REUTERS