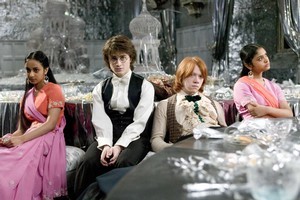 The teenaged stars of the Harry Potter films have their parents and school work to thank for helping them deal with fame.
More than most child stars, Daniel Radcliffe, Emma Watson and Rupert Grint are growing up in front of millions of viewers, having just completed the fourth Potter movie.
The three films so far amassed around $2.5 billion in ticket sales, and have become one of the most successful movie franchises in history. And there are four more to come.
"One of the things that has been amazing has been my parents, who have kept me completely grounded the whole time and I've never got big-headed or anything," said Radcliffe, the 16-year-old actor who plays Harry in the films.
"I never think of myself as famous. As far as I'm concerned, I'm famous for two days a year which is the premieres," he told Reuters in a weekend interview to promote Harry Potter and the Goblet of Fire, due out on November 18.
For Emma Watson, 15, who plays Hermione Granger, a healthy dose of skepticism about what the critics say combined with a solid education are the preferred ways of dealing with the increasing media attention that comes with each film.
"I try not to read too much of what is said, try to distance myself a bit from it," she said.
"If you listen to every critic, if you listen to every person's opinion about Harry Potter, then you're in trouble."
She said that despite the fame and financial security the Potter series has brought, she would continue with her studies.
"I'm going to go to university. I don't know what I'm going to study yet, but I think this business is such a temperamental one; one minute you're up there and the next - nothing."
- REUTERS